This syrup may be the most popular herbal syrup by far. Most of us are obsessed by the beauty and the fragrance of this Mediterranean herb. Its popularity has exploded in the United States in the last couple of decades. We can now find many varieties of English lavender, Spanish lavender, and even yellow lavender. Back in the 1970s when my mom had an herb business and grew about 1/4 acre of herbs, she had a difficult time finding even one English lavender plant and now it is commonly available at Lowes and Home Depot. It is "a thing" indeed.
You can make syrup out of any of the lavender varieties and I encourage you to experiment and find your favorites. However, most people will be most satisfied experimenting with various subspecies of the English lavenders — Lavandula angustifolia. This is the lavender used most for culinary purposes. However, there is even great variety among this grouping of lavenders. Some have more distinct flavors (Munstead) and one is used mainly for oil (Grosso). If you are planting lavender with the purpose of enjoying the flavor, be sure to taste around before committing to a specific variety or sub-variety. Here are some culinary lavenders: Munstead, Vera, Hidcote, and Sachet. You may find these at a local independent nursery or follow those links to an online nursery Mountain Valley Growers, located near us actually, with a great selection of plants by mail order.

The Color of the Lavender Syrup: What?
As you experiment with lavender syrup, a key question may pop into your mind: Why is my lavender syrup not lavender?
Your lavender syrup will likely have a light brown color, like an herbal tea. I have seen some syrups that were actually lavender in color and most of those had a natural color added. I have seen claims that lavender syrup will be lavender in color if you use fresh lavender but that has not been the case with any varieties I have tried. There very well may be a lavender out there that would make lavender-colored syrup. You might even like the flavor. Keep tasting and experimenting to find out.
Lavender Syrup Uses
Lavender syrup is a great way to add a depth of lavender flavor to your kitchen creations. To get a depth of flavor in your end product, your syrup needs to be strong in lavender flavor (which is why you really want to stuff as much lavender in the water as you can and let it steep for some hours if you have the time). With a strong syrup, the possibilities are endless:
Make a lavender soda with carbonated water and your lavender syrup.
Mix and match lavender syrup with fruit juices to make new beverage experiences. I like to dilute the fruit juice with carbonated water and add the lavender. Lavender is great with so many fruits but I particularly like it with pit fruit (peaches, plums, apricots) and with berries (raspberry, strawberry, blueberry, blackberry, elderberry).
Add lavender syrup to your coffee. It will add a nice flavor and sweeten it at the same time.
Use it over ice cream (of course).
I feel like I'm a bad influence here but you can obviously use the lavender syrup as a cocktail mixture. It makes a premium nighttime cocktail. I know from experience but I have since given up the habit.
Lavender Syrup Ingredients

One part lavender (fresh or dried), two parts water, and 1 part sugar (or honey).
Play with the proportions but these are the basic proportions I use here. You want to get as much herb into the water as possible to make a syrup with an intense flavor.
Lavender Syrup Steps
Making the syrup is simple. You can use this method for making herbal syrups of all sorts. You can use fresh or dried lavender.
Place lavender and sugar in a saucepan.
Bring water to boil. Pour over lavender mixture and stir. Cover with a lid.
Allow the mixture to sit for an hour or, better yet, overnight.
Strain out the herb and retain the liquid. This is your syrup.
Store the syrup in your refrigerator. It will keep for a month. It is a fun and handy ingredient to have around to add a pop of lavender to any recipe in which you might add water. Here are some ideas:
Add the syrup to carbonated water for a quick lavender soda.
Add the syrup to lemon water for an almost instant lavender lemonade.
Add it to hot water with a squeeze of lemon for a night time tea.
Drizzle it over a butter cake to make an extravagant lavender cake.
Use it as a mixer in a cocktail.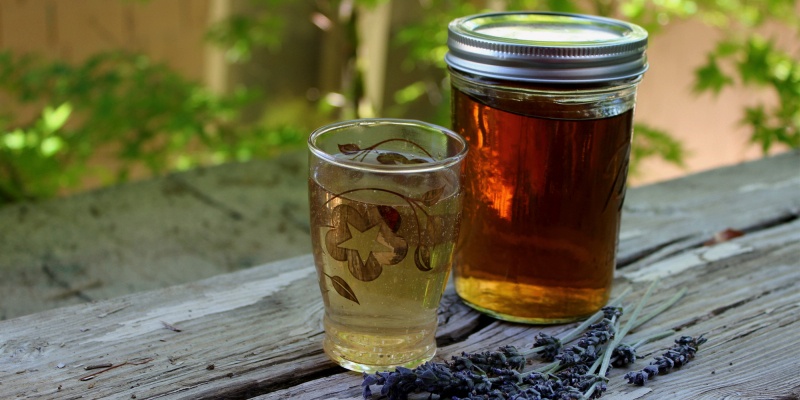 Lavender Syrup
This is a simple lavender syrup that you can use for sodas or other kitchen creations.

2

cups

water

1

cup

lavender

1

cup

sugar or honey
Bring water to a boil.


Dissolve sweetener in boiling water.


Bring water back to a boil if it has cooled and pour it over the lavender buds.


Cover and allow the mixture to steep for at least 20 minutes.


Strain out the solids and retain the liquid as your syrup.


If you prefer a very strong honey syrup, consider steep the lavender first and allowing it to sit for several hours. Strain it and then reheat the liquid and add the honey.

Lavender Syrup Q & A
Q: Where can I buy lavender syrup?
If you're in a pinch and are looking to buy lavender syrup, we've got you covered, check it out right here at our Amazon partner (here). This is a high-quality lavender syrup. However, the best quality is the syrup you're going to make in your kitchen after you hand-pick the lavender yourself on some mountain hillside, right? Go forth and harvest! 😉
Q: How to make honey lavender syrup?
A: You can definitely use honey as the sweetener in this syrup. If I were making a very strong honey lavender syrup, I would let the infusion mixture sit overnight before adding the honey. For instance, pour the boiling water over the lavender buds, cover it and let it steep overnight. The next day I would strain off the liquid, reheat it, and then add honey until it is dissolved. With sugar, you can add it to the steeping stage and let it sit and it is not going to spoil but honey may start to ferment. Basically, rearrange some of the tasks adding the honey at the end.
Q: What does lavender syrup taste like?
A: Take a whiff of lavender. Inhale deeply. That fragrance will come through in your syrup and the taste will be very similar.