Amanda's note: Here is another wonderful contribution from Ramya Venkateshwaran who writes from her home in India. Ramya describes natural remedies for hair loss. Find her on her website WildTurmeric.net for more ideas on healthy living.
~~~
Hair loss
is a common problem for both men and women and it is only increasing over the years. Though hair loss is seen most commonly in men as they experience complete baldness as they age, women also experience hair loss. It may not be as pronounced but it can be noticeable and embarrassing.
There are many reasons for hair loss: hereditary, nutrient deficiencies, thyroid problems, stress, and certain medications can all contribute. Regularly using chemical treatments and heat on our hair for straightening or curling also aggravates the problem.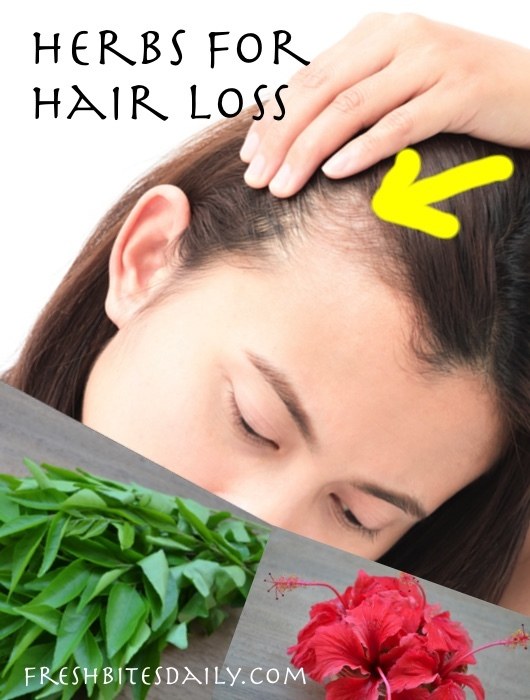 Losing our hair can be traumatic at any age and though not life threatening, it certainly bothers and embarrasses us. We can't avoid all the circumstances that triggers hair fall but we can greatly control hair loss no matter the circumstance with certain herbs. When Amanda asked me to write about the herbs that we regularly use in India to treat hair loss, the first three herbs that immediately came to my mind were amla, hibiscus, and curry leaves. We use these three herbs extensively for treating almost all the hair problems here in India. These three herbs are very effective in promoting hair growth, arresting hair fall, and greatly conditioning the hair.
Natural Remedies/Herbs for Hair Loss (Alopecia)
Amla
Hibiscus
Curry Leaves
Amla, A Natural Remedy for Hair Loss
Amla also called as Indian gooseberry is considered a very important herb in India. It is used very widely for treating hair loss here in India. Amla does multiple things for our hair when used regularly: it conditions and strengthens the hair and also promotes hair growth. One of the best ways to use amla oil for hair is by making a hair oil with it. To make the hair oil, extract the juice of fresh amla after removing the seeds and boil the juice along with coconut oil until the moisture evaporates. Store that hair oil in a glass bottle. Use this hair oil regularly to strengthen and condition your hair. Without access to fresh amla, you can make a paste with amla powder (here) and enough water to form a paste.
Here is a tutorial from my YouTube channel:

Hibiscus, Another Great Herb for Hair Loss
​
Hibiscus has been used for hair problems all over the world. It is great for preventing premature greying of the hair and it also promotes hair growth. When using hibiscus for hair treatments, use fresh flowers for best results. If you don't get fresh flowers, you can also use hibiscus powder too. One of the best ways to use hibiscus for hair growth is by making a hair mask with it. For the hair mask, take a tablespoon or two of hibiscus powder in a bowl and add enough yogurt and fresh aloe vera gel to make a thick but spreadable paste and apply on the hair. Wait for 15 to 20 minutes before washing it off using a mild shampoo. (Find dried hibiscus here to use to make a powder.)
Curry Leaves for Hair Loss
We use curry leaves extensively both in cooking and in remedies. Curry leaf is also one of the best ingredients to use for promoting hair growth. It benefits us both when taken internally and applied externally. Curry leaves are rich in antioxidants and amino acids which makes it very very effective in treating hair problems. You can use fresh curry leaves or dried curry leaf powder for hair treatments. Add the curry leaf powder to your hair packs or if you can get fresh curry leaves blend them with yogurt to form a thick paste and apply on your scalp as a hair pack. This works well for all types of hair and does wonders if used regularly. (Amanda's note: This is not the curry spice mix but rather the curry leaf which you can find dried here.)